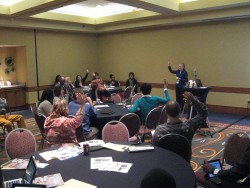 The 25th Annual National Dropout Prevention Network Conference was held in Atlanta to provide an opportunity for more than 1,000 registered education professionals to gain knowledge and practical skills to enhance their skills and focus on the critical issue of school dropouts and strategies for increasing graduation rates.
CIS of Georgia, which was a conference partner for the event, provided three sessions concerning our work to help at-risk students stay in school and achieve in life.  Conference attendees received CIS-related information in the following areas:
A Community Development Approach to Student Success:  Attendees learned how the CIS model increases student success.  Seminar participants gained understanding at the importance of community engagement in ensuring program success – for the student, family and school.
The Communities In Schools Performance Learning Center – small high schools for students not succeeding in the traditional school setting: During this session, attendees learned our PLCs provide at-risk high school students a professional learning environment that emphasizes personal support.  Performance Learning Centers create a positive school climate, address students' non-academic needs and provide challenging curriculum.  Opportunities like service learning, senior projects and dual-enrollment develop citizenship, leadership and college/career-readiness.
From At-Risk to College and Career Ready: Communities In Schools equips at-risk students by offering an array of programs and activities that provide college and career awareness and preparation.  Programs such as dual enrollment courses, mentoring and exposure to post-secondary options allow students to make informed decisions regarding their educational and professional trajectories
In conjunction with this year's event, Georgia Governor Nathan Deal proclaimed Monday, November 4, 2013 as Dropout Prevention Awareness Day.